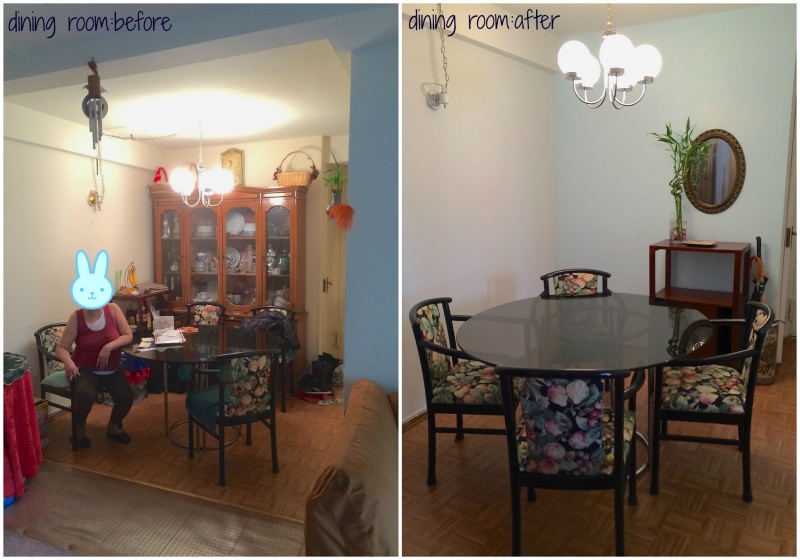 Most the time, I don't have the opportunity to fully decorate a client's home.  As a 're-stylist', it is my job to create a cohesive, stylish and comfortable living space using what the client already owns and (hopefully) adding a much needed piece of furniture or accessory.

Sometimes I forget to photo document the transformation, although mostly I fail to post because I don't want the client's style & taste to be a reflection of mine.  Many of the homes I work in are shades of brown, beige and barf.  I need to get over it because potential clients want to see what I am capable of doing and frankly, no one wants to live in my significantly photographed home.
Recently, I did a small job that had to be completed fast – before the client's husband returned from visiting relatives.  Basically, the dining & living rooms needed some organization and clutter removal.  After the entire area including the kitchen had been repainted which instantly made the space feel light, bright & clean, my design assistant and I reworked the apartment in record time.
This before & after features the modest size dining alcove which is situated next to the front door.  It was over crowded with a large china cabinet and a small shelf unit.  We moved the china cabinet to the adjacent wall (to be seen in the next post) – painted the wall Fountain Spout by Benjamin Moore and repurposed the shelf unit as a landing space.  When entertaining the client can use it as small buffet or as a bar.
Aside from labor, the client spent zero dollars and has a completely new dining room.  Eventually, I plan to add various sized mirrors to the accent wall and repaint the one hanging.
Stay tuned to see what changes were made to the living room!
xxoo.