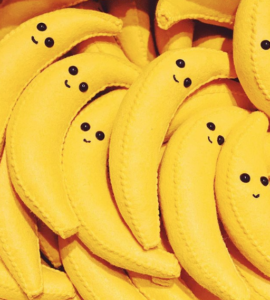 This week has been BANANAS! Between working with clients, I have been helping my felt fantastic friend, Sew Your Soul in her NYC Pop-Up.
If you are in NYC or planning to visit the city within the next two weeks, make this a priority! Each piece is hand sewn, painted and almost all are sign by Lucy. "Lucy's Delicatessen is located on 6th Avenue between 49th & 50th Street. Open from 11am til 8pm thru October 20th or until the shop sells out – which is a legit possibility.
A couple weeks ago, I shared on the blog one of my favorite hostess gifts – this is another fun hostess gift idea or a great housewarming gift for a foodie friend!