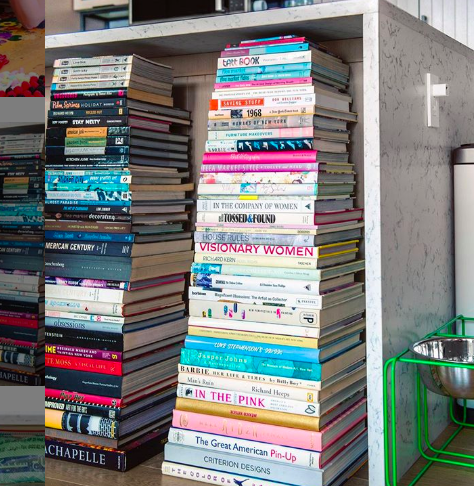 Many of us collect books, which can be an extra challenge in a New York City apartment. As an avid reader knows, this habit can get messy and we often have a hard time tossing out books or passing them on to friends.
Here are a few things to keep in mind when storing books. You don't always need a bookshelf to store books. Although this was initially a temporary solution as I wanted to unpack books but hadn't determined a more permanent location. Once I realized that I didn't need counter stools since my dining room table fit into the floor plan, I was able to keep these book towers tucked away but very much in sight. Due to the limited space, it also forced me to be intentional with what stayed, even though I had been ruthless in editing before I moved. Keeping the towers (mostly) color blocked, gives a neat and tidy appearance.
Another idea is to tuck books away in cupboards and cabinets or put some of your favorites on display. This is great for sharing some of your favorite cookbooks on your counter and may even spark some dinner inspiration!