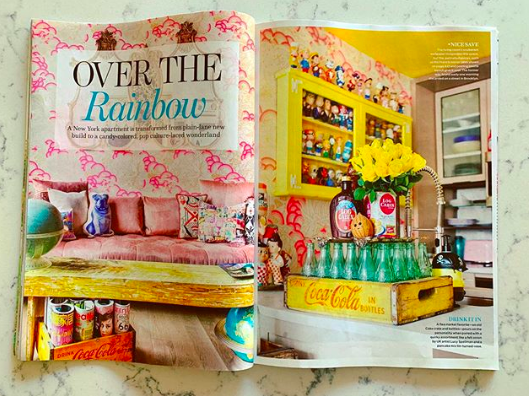 "A New York apartment is transformed from plain-Jane new build to candy-colored pop culture-laced wonderland."
The current issue of Flea Market Cottage is brilliant and we are not just saying that because they dedicated 12 pages of this past issue to Jeanie's apartment! Within these pages, you will be able to spot some of our favorite finds such as Sew Your Soul felt art. You can read more about the amazing artist Lucy in our last blog post. A great way to add a pop of color is through a fun and funky wallpaper such as Flavor Paper, which is hand screened, digital wallpaper made in Brooklyn!
It's really a fabulous issue full of fun and surprisingly sophisticated homes (flea market and chic rarely mix). Make sure to pick up your copy at Barnes & Noble or your favorite news agent.