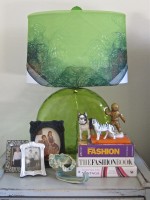 Do you have a co-worker, colleague, business constituent or perhaps career mentor who has the ability to make even the most challenging obstacles look effortless?  That everything this person handles leaves you inspired, gob-smacked and a smidge envious.  That this person's obvious talent makes you want to pull a Malkovich just to see the world through her eyes for 3 minutes?  Well, that's how I feel about visual stylist extraordinaire, Cindy Abrehu.
I first met Cindy years ago when she was in charge of visual presentation and merchandising for Bergdorf Goodman's 7th Floor.  Home Dec (that's what people in the know call it) is the most captivating and demanding of departments in the organization – window display notwithstanding.  Having returned to work on the floor after a detour as visual manager at ABC Carpet & Home, I was astounded that this unassuming petite person could produce what a team of 5 men had done in years past.  It's as though a trail of pixie dust follows her happy hands and everything she touches shines and shimmers.
I am comfortably competent in the art of display, but the manner in which Cindy can seamlessly meld modern furniture, French country patterns, flea market finds and religious artifacts in a cohesive moment leaves me in awe.  Her sense of balance, spatial perception and keen attention to detail ensure that every vignette tells a story and one that you want to buy into.  Cindy understands a subtle adjustment whether it be removing one object or shifting another at the slightest angle will take an arrangement from fine to fabulous.
Recently, while I was visiting Cindy in the apartment she shares with a less aesthetically inclined roommate, I snapped a few shots of her bedroom to serve as inspiration and potential instruction when creating displays for apartmentjeanie clients who may posses disparaging collectibles and objets d'art.  Whether Cindy is merchandising a table at Anthropologie, organizing her own personal treasures or assisting me on a partyjeanie tablescape, her work demonstrates a distinct point of view, yet allows the components to speak for themselves.
 I am incredibly fortunate to know this mini master of merriment and bequeath her the title of visual genius.
She's got a spell on me.
xxoo.