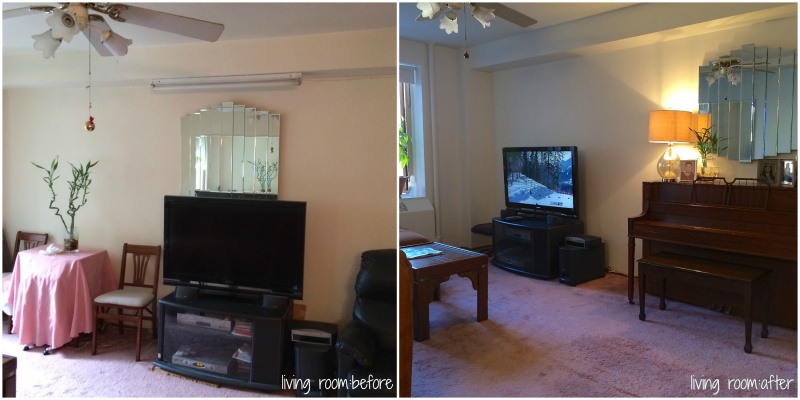 This is the 2nd installment of a recent apartmentjeanie job that was completed in a few hours* before the client's husband returned home from visiting relatives.  While this room is not finished – a new media console has been ordered and a different coffee table configuration is on the agenda, my amazeballs design assistant and I were able to make a significant style impact by working with what the client already owned.
Fortunately this client was committed to eliminating the clutter so all the makeshift tables used for entertaining were removed from the living room.  An elfa hanging rack was installed in a wide hallway allowing storage for the folded chairs that lined the living room walls.
By moving the piano which was previously against the adjacent wall on the same one as the tv, all the family's entertainment is consolidated into the center of the room.  I am sure the piano will now be put to task given its prominent placement.
Being an interior re-styler means I have to create something fresh, functional and fabulous even if the style and taste don't reflect my own which always makes for a fun challenge.  Next time you are tired by your surroundings, try to look at your home as a stranger might and see what you can do to change the space by shopping in your own home.
And if you can't, then call me!
xxoo.
* painting walls & ceiling notwithstanding
if you like it, share it: