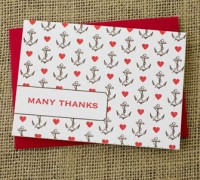 In light of the most recent installment in the 'how to be a gracious guest' series, it has been brought to my attention the excuse reason many do not send a thank you note is out of ignorance as to what to actually write.  As surprised as I may feign, this is not my 1st time I have given a correspondence tutorial.
Many, many years ago when I was a sales associate at Sony Styles's flagship store on Madison Avenue, the staff was expected to send handwritten thank you notes to clients.  This was a bone of contention for many as they felt their job was selling and taking time away from televisions and playstations was affecting their ability to move product – the insipidness of this argument still irks me.   Anyway, I took it upon myself to create a thank you template that was tucked into each employee's sales handbook.  Those ill at ease with etiquette could fill in the blanks in their form thank you note, the client would feel valued and the ever-revolving powers that be would see returns on the investment.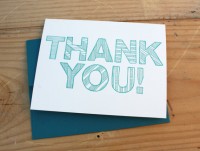 Writing a thank you note need not be a challenge and with a few guidelines can be quite gratifying.
After the salutation, offer a pleasantry or personalized greeting – for example:
Dear Kira
      I had such a delightful time with you and the kids on Saturday at the Brooklyn 'Smorgasburg'.
The 2nd & 3rd sentences are the crux of the correspondence.   First state how appreciative you are to receive such a lovely gift – or whatever you are giving thanks for.  The following sentence(s) should support your gratitude by how this action will be of benefit to you.
Thank you so much for thinking of me while on your holiday in Europe!  I absolutely love the scarf and (almost) wish it were winter now.  I also wanted to tell you how much I am enjoying the issue of Wallpaper* you picked up during your lay over.  I have already found some fabulous lighting fixtures for a client project. 
The final component to a well-crafted thank you note is the closer.  Since the body of the note is short, repeating 'thank you' is redundant, I recommend expressing something kind about the recipient.
Both gifts are so incredibly thoughtful.  I will think of how lucky I am to have you in my life every time I don my super stylish scarf.
Time to put the pen to paper.
xxoo.