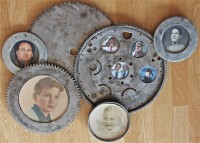 A few months ago I had posted a photojeanie blog about a unique and innovated photo collage created for my mother who had celebrated a monumental birthday.  Well, my father had one as well – in the same week turning the same age.  As much as Daddy enjoys a cup of tea, I couldn't present him with a visual time capsule set in porcelain.  He needed something representative of his interest and completely masculine.
Working within in the same concept of fashioning found objects to act as picture frames and building a single piece from various, but similar parts wasn't as challenging as I had anticipated. Actually I was struck with the idea immediately, except resourcing and eventually bonding them was completely beyond my knowledge, experience and skill set.
That's when I had to call in the expert.  BSTONE of Sacred Steel Studios in Kenilworth, New Jersey is the master of metal.  First thing BSTONE did, was correct my terminology; I kept saying cogs, whereas I really meant gears – quickly I was schooled in Gearhead 101.  With little more than a phone call and a rough sketch, BSTONE was able to interpret my vision.  Not being one to abandon creative control, I conceded to BSTONE's artistic direction when faced with technical challenges.
What he delivered was more than a manly metal frame in which to display photos spanning my father's life, but a true sculpture – worthy of being treated like a piece of art.   I knew Daddy would appreciate the craftsmanship and creativity having spent every Wednesday night of my childhood excusing himself from the dinner table to leave for his metal sculpture class at the local art school.
When Daddy finally received his birthday gift – my tardiness, not BSTONE who delivered right on schedule, he was speechless which was exactly what I was hoping for.
Giving the people what they want…
xxoo.