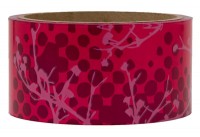 I am just mad for decorative tape, although I never felt justified in purchasing a roll of the novelty versions I had seen in stores – if I am exerting the effort to post a package, I am certainly not spending addition time and creative energy in lavishly decorating the mailing box – that dedication is allocated to the gift.  At least that was my attitude until I found TapeSwell's awesome collection of graphic and stylish tapes.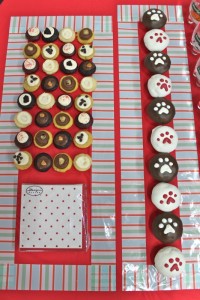 The sophisticated designs and punchy color combinations have me completely wrapped up with a multitude of applications and ideas.   Not content to just pretty up presents, I found far more practical, yet innovative uses for the artistic adhesive.  For Little Bit's pool party, I created the illusion of platters and serving plates by delineating a specific food section with the tape.  The decorative borders created a visual pop and a cohesive polished appearance.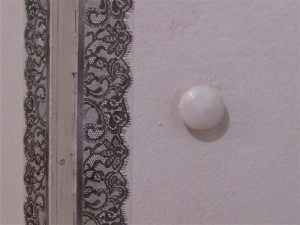 When the 17,00 layers of glossy paint started to chip off my foyer closet door, I knew I would never be capable of seamlessly filling in the crescent shape bald patches – it's been 48yrs in the making, but lining the edge with a lace trim piece of tape took 48 seconds.
I am thinking the pre-cut white mats that come with picture frames might benefit from a zippy streak of tape.  Really, the options and employment are as varied as TapeSwell's extensive selection.  If you need some more inspiration, there is a section on the website called 'tacky ideas'.  How's that for stick-to-it-iveness?
Creating one sticky situation after another,
xxoo.