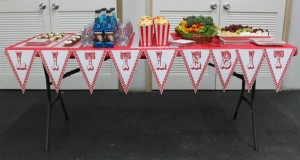 I have suburban envy of very few things – outdoor swimming pools, accessible tennis courts, barbecue grills and a yard in which to host a dog party. For years I had denied my baby Bully a proper celebration because his birthday falls in January –  too frigid for fun in a dog park and that public space in which to host an event is limited (and perhaps a throwing pooch party is slightly insane).
In 2004, I happened upon a pet clairvoyant whose observations of both Little Bit and myself were so spot on that I wanted to expose her talents to a larger pool of participants and suddenly I found myself organizing an apartment party to commemorate Bitty's 5th year.  The guest list consisted of 10 canine companions, their owners and 3 friends of the family. Some thought I was certifiable for opening my meticulously merchandised home to a pack of pets, but the opportunity to create a dog focused, people friendly party was a challenge I could not deny.
The *kids* frolicked in the living room, owners socialized over the buffet and the readings were performed in the bedroom. When it was time to serve Little Bit his*cheeseburger* birthday cake – modeled after his favorite toy, the slices were presented on my grandmother's china that she had hand painted with dogs and witty canine cocktail quotes. Days after the event, I was still receiving praise for the delightful affair and a few guests mentioned it was better than most of the people parties they attend.
Armed with this success, inspiration had hit (or I should say splashed) me again as I watched Little Bit joyfully swim during his weekly dip at Water 4 Dogs in Tribeca. We hadn't honored his birth in quite a few years and the desire to introduce others to the charm of an English bulldog paddling around the pool was motivation to plan another carefully curated carousal.
Building on the principles I had applied in my previous foray, the menu consisted of dog specific treats like "pupcakes" from Buttercup's Paw-tisserie in Brooklyn and organic dog cookies from Birdbath Bakery in Manhattan, but all the human food like "pupcorn" from Kettle Corn NYC, cheese and crudite platters and Baked by Melissa bite size cupcakes were all canine approved in case someone got his paws on a non dog designated kibble. The signature beverage was Bubblegum Blue (chosen for it's pool water reference) Jones Soda whose label prominently featured Little Bit's mug and doubled as a memento.
A party for puppies is no different than one for people – the better organized and prepared the host is, the more fun it will be for the guests.
The following are a few tricks to ensure a pupfect fete:
Have an activity planned –  an obstacle course, an illustrator as entertainment
Serve all non dog intended food on surfaces above wet nose level (lesson learned at the first party)
Prepare for *excitement accidents* have cleaning supplies handy
2 hours is plenty of time for the guests of honor, their masters and you
Ask for a modest donation be made to a rescue or animal charity in lieu of gifts
Accept that the party will have gone to the dogs.
Big sloppy Bitty kisses,
xxoo.