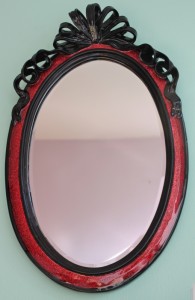 I have been streamlining the lives of others in some capacity as long as I can recall.  As the self-proclaimed chaos conqueror (actually I was bequeathed the moniker by a writer at Town & Country, I just kind of owned it) I am ruthless and unyielding at eliminating the clutter of others.   While my own living space is neat, tidy and über organized, I do have a slight stockpiling problem with housewares that possess potential.  Lucky for me, I have enviable closet storage.
It was probably the 900th time I had opened the closet door that concealed my shameful secret stash of orphaned ornate frames that I realized, if I am going to expect my clients to rid themselves of the impractical and ineffectual, I need to practice the same policy in my own home.
Whereas I hadn't spent much, if any money on these treasures of the trash, I wasn't about to cast them off after years of hoarding and boarding – what would I do with all that extra closet space?  That is when I had my a-ha moment – create an Etsy shop!  Simultaneously, cash in on the clutter and increase my brand SEO – brilliant and profitable.
If I was going to expand the apartmentjeanie service line to include housewares, it was imperative that it would reflect my style sensibility and aesthetic.  Refinishing found frames and mirrors in poppy colors with candy-coated lacquer pretty much sums up exactly who I am.  In an effort to appeal to a wider market, I have included more traditional and somber tones to the collection, but it's the intense power packed rainbow brights that always draw the attention of treasuries and paying customers.
So the next time you trip over the pile of projects on the floor, consider how you can turn the trash to cash and clean up in the process.
Making dough from the dump,
xxoo.