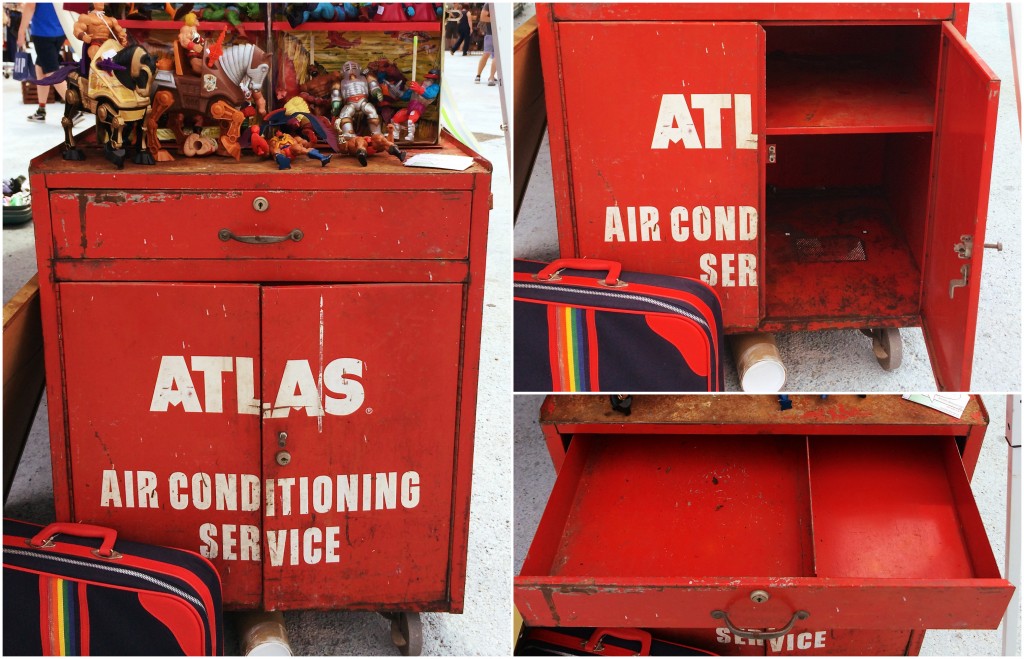 I used to date a guy who never knew what day of the week it was or what date of the month or quite possibly what month we were presently living in.  As someone who has built a career because I have an uncontrollable compulsion for detailed organization, I thought his inability to be aware of time was ludicrous.
Until today when I showed up at the Brooklyn Flea with the understanding it was the Annual Ice Cream Bonanza.  And that was a misunderstanding on my behalf.  I literally looked up the date 3 different times over the past 24hrs and then again while I was standing in the middle of flea after having walked the entire lot to no delicious dairy avail.  I looked at the link again and realized today was not Sunday the 20th of July.
Although my trip did not produce a sampling of cold creamy confection, I did spy some super sweet delicacies of diy home decor.  In fact, I am completely obsessed with this vintage cherry red industrial shop cabinet.  Shelf, drawers, surface space and casters – I am in love.
How perfect would this be as an entryway console or as kitschy kitchen storage?  I have a client in desperate need of outside shelving to keep all of the summer entertaining accessories at the ready for impromptu parties (truth be known, we've maxed out all possible places to store her late night One Kings Lane problem.) although I think it's a little too rusty & rustic for her taste which is excellent.
I am also drinking in the idea of converting it into a rolling bar cart.  Perhaps doing an era appropriate collage of cocktail recipes under glass for the bar top.  Oh, I feel like a contestant on Flea Market Flip!  The ideas are endless!
I think I have met my flea market spirit animal equivalent.  I just hope that this powerhouse of possibilities will be at Deep End of the Sandbox's stand next week when I show up for my frozen treat foray.
xxoo.