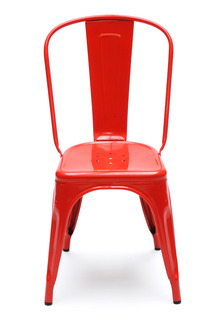 Many times throughout furniture history there have been classics born into the world. Fine examples of this: the Saarinen Tulip Table, the Starck Louis Ghost Chair, the Mies Van Der Rohe Barcelona Chair and the 24 century old curule chair (which has evolved into the much used x bench.) All of these fabulous designs have transcended time and style to be seamlessly blended into interiors featuring the decor trends of the moment. Another great example of the latter is the currently super popular Tolix Chair otherwise known as the Marais A chair.
This chair had its beginnings in 1930s France when it was designed by Xavier Pauchard. At its inception the Tolix chair was perfect for use in parks, factories and of course cafes which brings us to celebrate its recent popularity. I've recently seen these chairs & their stool variations in restaurants, on the pages of many an interiors magazine, and in editorial shopping pages. They're everywhere in Manhattan & Brooklyn. Full disclosure: even I own the stool variation in white and use them in my kitchen, which is why I can attest that their popularity is warranted.
These simple yet elegant chairs are not only water proof & easily cleanable but they're stackable & comfortable. They can fit into an industrial look, in a rustic interior & can even work in a shabby chic interior given the right color is chosen. Since they're so beloved there are a slew of imitations on the market that can be purchased at a much more affordable price.
We at apartmentjeanie love them & love the flexibility that they provide both for building a refined room and a family friendly room.
Here are our picks priced from high to low:
Tolix Marais Chair – the original
Marias A Side Chair
Retro Cafe Side Chair
Black Metal Chair
Carlisle Metal Dining Chair