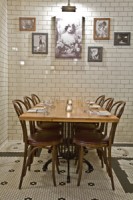 Do you have one of those stand-by restaurants that serve really good food and as much as you want to dine elsewhere, you keep returning because it is so reliable and possibly the Caesar dressing may have a secret addictive ingredient that compels you order it 3 times a week?  Well ok, perhaps the latter is more a personal issue, however it doesn't diminish from the dependability of The Smith located in the crosshairs of 3 different university dorms in the East Village.  Rising from the ashes of the long standing (or I should say surviving?) Pizzeria Uno – a restaurant I can proudly admit to having never patronized no matter how convenient to the multiplex on Third Avenue it may have been, The Smith is able to service just about every palette and personality.
Like falling in love, it is the smallest of details that win you over.  Since I am a tastemaker when it comes to dining out (have I mentioned urbanspoon is following me on twitter!?) I happened upon The Smith in its opening week.  Plied with a free fancy cocktail of my choosing courtesy of a Zagat's promotion, our darling server brought 2 repro vintage water bottles – one with still and the other filled with sparkling water – seriously crushing at this point.
Now, it is hard to develop a genuine relationship on a mere flirtation and The Smith delivers the goods when it comes to the heart of the matter – the food.  Everything I have tried is consistently tasty and in some cases really great.  This is not a culinary love affair of a lifetime, but it has never disappointed me, although it has kept me waiting.  And like a self-actualized partner, The Smith knows how to admit it is wrong and apologize by way of gratis food or beverage.
And that my dear, is how The Smith keeps me coming back – every time.
Bon appetit,
xxoo.