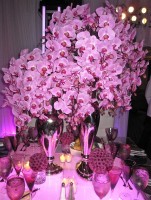 I haven't been on the Bat Mitzvah circuit for close to 2 decades, so when the elaborate and (tastefully) embellished invitation arrived, I knew that this sacred Jewish rite of passage was in for a well-deserved makeover.  The hostess of this Hebrew hootenanny was my best friend from high school with whom I shared a less pious, albeit equally traditional celebratory teenage milestone – the Sweet 16.  With little contribution from the adults (other than monetary) we planned, plotted and produced an enviable event that would later be my first foray as partyjeanie.  I knew this fete would be flawless and fun.
My suspicion was confirmed – the party girl didn't miss a trick.  Upon entering the foyer a Tony Manero clad greeter whisked the gift right out of my hand and directed me to the gorgeous place card table.  Since I have been out of the Bat Mitzvah game for a while, I wasn't sure what party innovations to expect in the pre-teen scene.   This may have been a formal affair, but the focus was all about the kids.  When there is a martini glass filled with earplugs discreetly nestled in a floral arrangement on the bar, you know there is going to be some roof raising.
I will refrain from relaying all the glamorous aspects of this fabulous function, but rather comment on the details that truly made this reception exceptional.  As indicated earlier, this was a serious soiree, but the newly minted 'woman' of the hour was its star and the night was her galaxy.  (When I was coming up, black tie Bat Mitzvahs were intended as the adults' affair and only a highly selective group of friends were granted invitation to attend.)
There was a strategic pacing of the party that kept the guests on the dance floor and rarely in their seats.   As the festivities came to a close, that is when the proverbial party punches were really pulled.  I was (not so) secretly hoping for a subtle Amy Atlas candyland like table display to materialize at evening's end, but I wasn't prepared for the Dylan's Candy Bar size store to magically open right inside the same foyer in which I entered 5 hours earlier.  (I seriously had to fight for my share of the sugar stash, as those well-behaved and charming children were savages!)
For the more demure and ladylike guests preparing to exit, the same Tony Manero suited party hands offered floral arrangements that had been inconspicuously removed from the dining tables moments before.  As the partygoers departed the venue, arms laden with a Valentine's bounty, they were presented the option of coffee, tea or hot cocoa in commemorative insulated travel mugs as giant chocolate chip cookies sat on warming trays under heat lamps to ensure ooey gooey deliciousness for the ride home.
No matter the size, expense or style of the occasion, fun can not be planned, but being an affable, gracious hostess who overlooks nothing and allows no detail to go unnoticed will ensure that her guests have an unbelievable experience.
Mazel Tov!
xxoo.