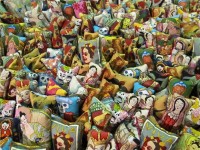 This past week I attended BUST magazine's Craftacular.  This event has evolved considerable from its humble beginnings some years ago.  Then the emphasis was on yarn work, which isn't surprising as Debbie Stoller, the magazine's editor-in-chief also is the author of a slew of knitting books. This year's holiday fair seemed to draw a diverse coterie of artisans.   The quality of the merchandise was more polished and professional than in previous seasons.  What impressed me about many of vendors was the attention to detail in display and presentation.
This event was only one day, but the intent to feature the handcrafts was often just as compelling as the product.  It is also interesting to see what popular trends are surfacing within the d.i.y community.   Letterpress cards with snarky, but poignant messages were widespread as was hip baby wear that I wished was designed for adults.  One craft fair staple I have never been partial to is soap and there were tons of crafters shilling lotions and potions.   A delightfully surprising entry was artistically and humorously created terrariums.
It is amazing to bare witness to so many creative and entrepreneurial clustered into one space.   Not only does it spark my imagination, but also gives comfort that the movement to create handmade, beautifully executed and accomplished one of a kind goods is thriving and maturing.
Keep creating.
xxoo.