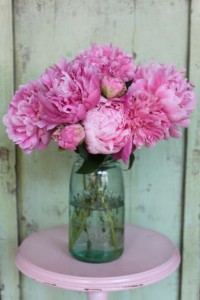 Between being completely absorbed in an amazing new interior décor book – that was intended to be the subject of today's post and my MAC begging to die a slow death, a quality apartmentjeanie post this is not.  However, I do feel the gorgeous pink peonies from James Durr Wholesale Florist located in Union Square Farmers Market are deserving of one.
Peonies have long been my favorite flower – so lush and billowy and most often in pink.  They are like the cotton candy of the floral world to me, non-edible confection perfection.  Presented in a simple glass container is all a posy of this powerhouse bloom requires.
The season of the peony is short and already over – at least from my farmer's nursery, so I will have to savor the sweet smell of this fragrant flower and bid my time till the dahlias (my 2nd favorite) are delivered to the market.
Take time to smell the roses peonies,
xxoo.