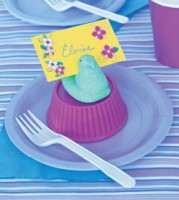 With the Easter Bunny due to hippty hop here on Sunday and Elijah making a hasty exit earlier this week at Seder, family and friends are gathering around the dining room table.  In the spirit of both of these holidays, strangers or those without close connection with the host may find themselves becoming a temporary member of the extended family.  How to make these new found friends welcomed and comfortable in an unfamiliar setting?  Assigned seating, of course!
Pre-arranged seating may be an additional task to take on when planning and executing a dinner party, but even amongst close friends and family there can be a landmine of potential faux pas and awkward social scenarios that can be easily avoided if everyone has been provided with an allotted location.  A place card allows for a seamless transition from cocktails to dinner for the guests and a timely one for the host.
I consider a place card an integral component of the table setting.  There are a myriad of standard issue options, but I enjoy employing some creativity that envelopes the theme of the event.  I also try to design the place card holder to be a given as a small token for the guest.  For my sister's bridal tea in which flowers had been the motif, I had inserted a Gerber daisy (the bride's favorite) with a flower tube into the folded napkin.  I had written the guest's name with metallic marker on a leaf and tucked inside the pocket of the napkin as though it grew from the stem.  For a birthday dinner of mine a few years ago that was held in a seafood shack – well, as much of a shack as the East Village will permit, I ordered lobster barley lollipops as a placeholder.
A place card can serve multiple purposes.  For the girls annual holiday dinner in which place cards are not a necessity, I wanted to present the individually selected cupcake to the designated guest.  Once everyone was seated, I removed the tasty place card holders with a tray and at dinner's end served each guests her specifically chosen dessert.
The options of fun and interactive place cards are only limited by one's creativity and with so many online resources, (like this one!) there is no excuse not to put everyone in his place.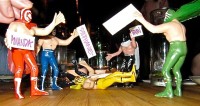 See you at the table.
xxoo.