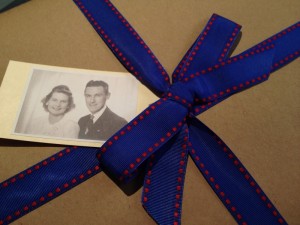 Who doesn't like a pretty dressed package?  (Well I do know someone, but he has since stopped receiving anything beautifully wrapped from me.)  Sometimes the presentation of the gift is more anticipated than the actual present.  When I prepare a photojeanie client's album for delivery, I'll wrap the album in simple craft paper with a big grosgrain ribbon and usually some embellished tag.  I like to incorporate a personal element on the flip side of the address tag – like a color copy of a photo that has been included in the album as little teaser of what's to come.
It's this kind of attention to every visual detail makes receiving a package from Madame Fortuna's Etsy shop so exciting.  Allison Nowlin Ward, the owner/creator/dreamer of Madame Fortuna thoroughly understands the significance of a customized mailer.  Whether the jiffy envelope is adorned with swatches of decorative paper or a vintage typewriter addressed label, the outside appearance compliments its inside contents.
At a time when traditional mail service is slim, it's fun, refreshing & sweet to receive an explosion of creativity bursting through the postbox.
Return to sender,
xxoo.