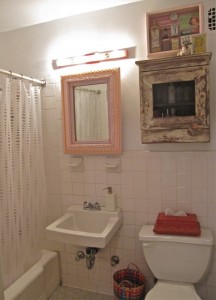 With Thanksgiving a week behind us and New Year's Eve 30 days away, we are in the preliminary phrase of the premier party season. While most of us will be guests in someone's home, some of us will do the entertaining.
Creating a festive and comfortable party atmosphere should be the priority of the hostess and this extends beyond the food, libations, music and attendees and into the powder room as well.
Regardless of the total bathroom count in one's residence, it is imperative that the designated restroom be designed to receive guests appropriately.
In most homes, one has the luxury of having an allocated powder room, generally void of bath & shower, however many city dwellings often posses only one bathroom. Given this may be where you bathe, dress, apply make up and perhaps spend *quality* reading time, it isn't acceptable to ask your guest to do the same.
The following suggestions will not only create a welcome refuge for those in need of a rest room, but also protect your privacy as well. (Having entertained many a touring band in my younger years, I have learned it is best to hide anything that maybe an appealing prop in a practical joke.)
Remove all toothbrushes, prescription drugs, bathrobes and personal effects – just trust me on this…
Place a full roll of toilet paper on the dispenser. Have multiple rolls discreetly available. It is imperative the host or trusted friend should check on the loo every hour to ensure its tidiness.
Supply a box of Kleenex.
Remove the bath mat and body towels and provide fresh hand towels. Depending on your stance on the state of the environment, individual paper hand towels are more sanitary, but obviously wasteful and costly.
Have a light scented, gender-neutral self-contained candle burning in a safe and unobtrusive location to diffuse potential malodorous air and provide illumination if the bathroom lighting is off.
Empty the waste bin prior to guest arriving.
Do not use the bath tub as a giant cooler – if freezer space is limited and bags of ice are necessary, then it is an acceptable storage option, of course the ice should always remain in said bags while housed in the bathroom.
And lastly, although I really question whether I should include it, but thoroughly clean the bathroom in its entirety the day of the event.
So now that the guest have arrived, the food is served and the fete is in full effect, you can absolutely enjoy yourself knowing that your dirty laundry won't be aired and your toothbrush will be foreign body free.
Rock on party people.
xxoo.