Infographic for Panicked Packers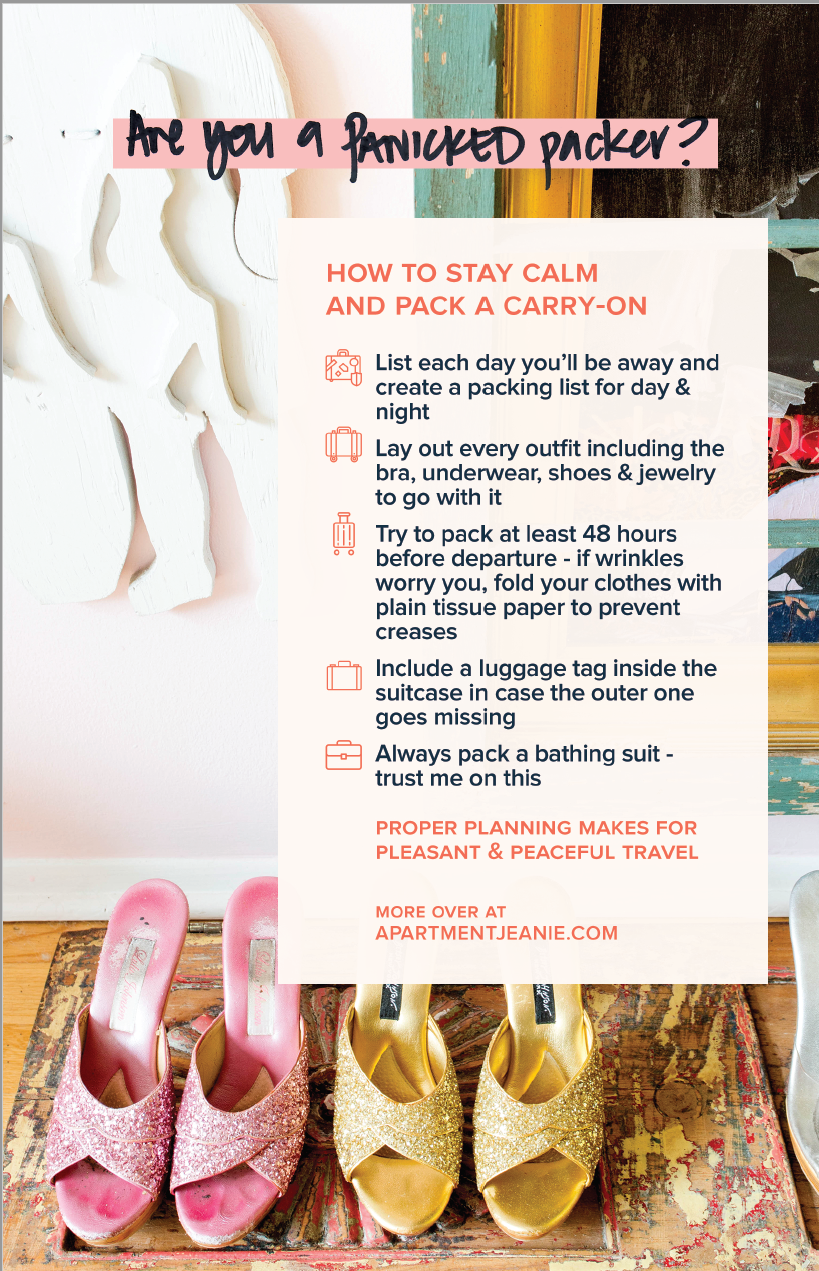 Top Five Packing Tips for Panicked Packers
Are you a panicked packer who stresses out before a big trip? Do you worry about what to pack, how many of each item to pack, and even what bag to pack? As a professional organizer, I know how to organize and maximum space in that small carry-on bag.
Here's a few quick tips that can make a huge difference to your packing routine before your next trip.
List each day you'll be away, your activities for each day, and create a day-by-day packing list
Lay out every outfit you have for your trip including your bra, underwear, shoes, and jewelry to go with it. By drilling down into your outfit details, you'll reduce stress around putting together that perfect outfit.
Try to pack at least 48 hours before your trip departure if not earlier! This gives you time to account for weather, issues with your clothes, and missing items.
Include a luggage tag inside the suitcase in case the outer one goes missing. It's never fun to lose your luggage on vacation!
Always pack a bathing suit – trust me on this! You never know when you're going to want to jump in the water or jacuzzi in your hotel.
The New York Times also has a great piece on what they see as the "right way to pack for travel."
Stop being a panicked packer and conquer your packing fears! For more tips on what and how to pack, check out one of my previous blog posts on the topic.
Leave a comment below to let us know how these tips helped you pack better.
Stop your panicked packing before it starts with a redesigned interior decor project.
Is your space starting to feel a little stagnant and cluttered? Maybe it's time for a style shake up! Anytime is a great time to start an interior decor project. Let apartmentjeanie help you refresh, restyle & refine your homes aesthetic identity with our happy home service.
The design team at apartmentjeanie specializes in crafting a space that not only reflects its residents but utilizes what you already own with purpose, intention and creativity. We re-purpose and recycle what you already love and cherish to create a more cohesive and functional home.
And if we need to bring in some new pieces, the wait time for custom orders won't feel so long when you are enjoying the process of transforming your space.
At apartmentjeanie, we help you design and organize not only your home, but the life you want to live. For better organized living, call us at 917-828-7197 or fill out our "Getting Started" form to let us know how we can help you best.