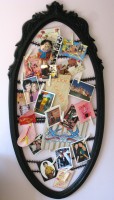 A memory board is an excellent way to display your photos, ephemera and mementos.  Unlike a picture frame or shadowbox, the collections can be layered, dismantled and augmented on whim.  It can capture the here & now or the past & cherished.  Some are used to tell a story others hold a secret.  Mine allowed me to utilize a discarded and damaged antique frame and showcase what inspires me.
To create a memory board that is completely customized:
Obtain a large empty frame.
Clean, prime and paint – don't forget the inside of the frame as it will be visible.  Paint natural wooden clothespins to match or coordinate with frame.
(optional step) add a decorative layer of glitter that highlights the frame's   embellishments
On the reverse side of the frame using a staple gun to secure.  Stretch heavy lace or trimming from one side to its opposite.  Pull taut before stapling the lose end.  Space accordingly.
Hang and arrange your mementos
Enjoy the memories!
xxoo.