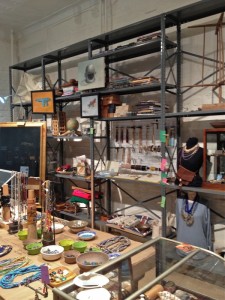 Years ago one of my bffs thought we should open a store together – we have similar sensibilities, style and both are entrepreneurial.  Owning a store is not playing store however, my real fear is that I wouldn't be able to create an interesting & dynamic space.  The kind that not only entices you to buy, but never leave.  This fear is a tad unfounded as I have spent 1/2 my life waiting around in shops, boutiques & ladies' department stores and the other half creating visual merchandising spectacles large & small for people like my mother who dragged me to those stores as a child.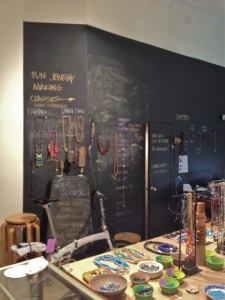 While walking the puppy, I happened upon Lost Wax Studio in the Nolita neighborhood of NYC.  The view from the street beckoned me in, which is an impressive feat as I semi-loathe shopping.  The studio/shop is incredibly curated and the execution is impeccable.  It's Santa's workshop for the creative set.  I love the melding of flea market artwork, random curio & merchandise meticulously yet effortlessly arranged on vintage industrial shelving.  The blackboard paint may be functional, but also visually defines the space.
Aside from selling beautifully crafted jewelry that looks delicate, but tough, Lost Wax Studio hosts a wide range of workshops & events.  The staff is hands on & helpful.  (Of course this assessment is based solely on chatting with the woman working there, although I read some Yelp reviews that confirm this.)
Fortunately (only in this instance) that my friend moved across the country and opening a retail store is no longer an option because I don't think I could ever achieve the casual elegance and visually intriguing design that is Lost Wax Studio.  xxoo.