It has been an interesting week in lower Manhattan.  Living with 2 bulldogs without electricity, heat, water & internet/cell service has given me a lot of time to contemplate candle light.  For those who know me, are aware of my weird dislike of candles, so when faced with no lights for 5 days, I was a tad under prepared compared to my more romantic lighting leaning friends.
Given ample time to observe the level of illumination emitted I've made some mental notes as how to stock the proverbial power outage pantry.
Straight up tapers in simple candle sticks most definitely provide the brightest and best 'no power, but need to see in the dark' lighting.
Sticking candles in the freezer prevents dripping and retards burning, so once stores are re-stocked I'll be purchasing a box of 12″ taper dinner candles that'll be commingling with Ben & Jerry until duty calls.
When living by candle light, unscented is the only choice.  Multiple scents in a confined area make me dizzy and a little gaggy.
When you live by a strict no candle policy, there really isn't a great need for candle sticks.  Thankfully I am a crafty girl so I had to be resourceful with creating holders in which to support a candle.  Tea cups, saucers, rice bowls & glass Mexican Coca-Cola bottles were fashioned into candle sticks, votive holders and bobeches.
Pillar candles might be pretty in the Pottery Barn catalog, but they're abysmal as a light source.
If it's necessary to keep a candle burning in the bathroom or kitchen while unattended and water has been shutdown, keeping a glass enclosed candle in the sink is the safest way to avoid the possibility of a fire.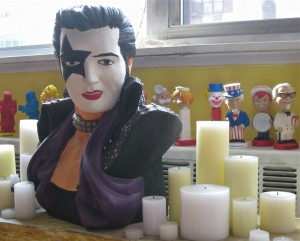 Of course I am really hoping that I do not have to put this practical information into practice anytime soon, although I hear there is a Nor'Easter en route this week…
let your bright light shine,
xxoo.