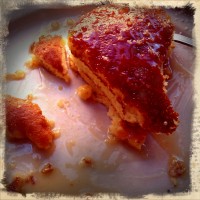 Admitting you have a problem is the first step, right?  Ok, so I'll just cop to my affliction – I have iphone envy.  More specifically, I have iphone photo app envy.  And saying it twice doesn't diminish my desire for the Android platform to adopt a legitimate hipstamatic option.
There are alternatives that posses similar capabilities and produce quality images, but they truly pale in comparison.  It takes an absurdly long time for the selected effect to register.  As with the shooting process.  Once the image has been *developed* I must remember to save it or it's gone.  The photos can not be seamlessly uploaded to the desktop; I am forced to email the images to myself.
Would I give up excellent Sprint service in order to experience the joy of instant, dreamy photography?  Absolutely not – but it still makes me green sepia toned with envy.
Waiting for something to develop,
xxoo.
*Note the above photos were taken with the Retro Cam app for Android.   Below, the iphone was used by the discerning and artistic eye of Delphine Daniels.  She is a true (iphone) photographer.