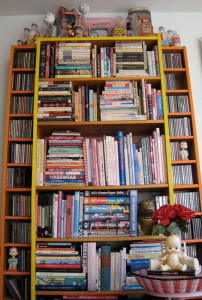 Everyone of a certain age and financial status has shopped at IKEA.  What were once originally considered disposable furnishings have now become household staples to most.  Even though there is a BILLY bookcase in practically every Manhattan home, one doesn't have to stifle her style for the sensible.
Ribbons, decorative paper, mod podge and a glue gun can turn the ubiquitous shelving unit from drab to fab in a New York minute.
The 20yr old (practically vintage) spinning wardrobe has proven to be so indispensable that it has been impossible to part with, even when chicer options have presented themselves.  The fashion didn't suit the form so a masterful makeover was mandated.  This project requires a bit more involvement, but the personalization is perfection, so patience is required.
If decoupage isn't your forte, swap the factory issued drawer pulls with something a little more sophisticated – like the Violette knob from Anthropologie.
Make it yours.
xxoo.