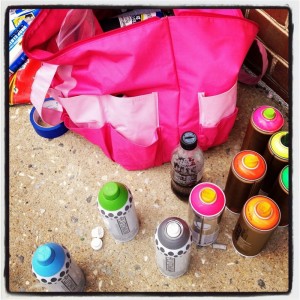 I've been painting with a spray can since I was a budding crafter assisting my father on home projects.  I've always consider spray painting a cop out or lazy alternative to the paint brush – hasn't stopped me from hoarding cans, but led me to believe skill was not a requirement, unlike those of a graffiti artist.  The apartmentjeanie etsy shop is chockablock filled with samples of my talent with the aerosol completely out of necessity due to my inability to paint brush stoke mark free.
Recently a friend who I'd consider creative suggested that I write a post on how-to spray paint – something that I thought was universally obvious.  But this blog is all about giving the people what they want, so here are the directions on spray painting for craft projects:
always read the directions on the can – seems obvi, but different manufactures have different dry & re-application times
thoroughly clean the piece to be painted, make sure it is dry prior to application
aerosol paints can have a bit of cast-off especially outside so cover the work area 2x as much as you think
spray in a well ventilated area – most people wear a mask to protect from ingesting the chemical fumes, I don't b/c I'm hardcore stupid
wear gloves – occasionally the comfort tip which allows paint flow into the cap can snap and the paint will leak out and ruin a lovely manicure
when spraying place your index finger squarely on the cap to ensure a steady stream
spray in light quick coats with a little overlap – don't expect to cover the entire piece in one coat by being heavy handed with the can – drips or sputtering will ensue
possess some patience and wait until each coat is dry (follow the recommended time on the can) before adding another
once spraying is complete turn the can upside down and spray away from the piece, but on the covered area to clear the cap from paint build up
handle the painted piece only when completely dry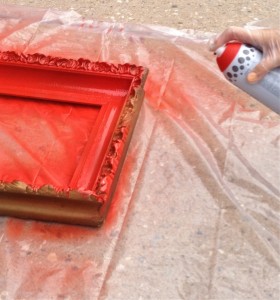 Are your eyes suddenly scanning your home for potential project?  Spray painting is quick, simple and instantly gratifying.  Years ago there were only a few manufactures of aerosol paint and one was at the mercy of a hardware store's sense of style with respect to color availability.  With acknowledgment of spray paint a legitimate art medium, boutique companies have been producing intense pigment rich colors in broad spectrum.
The next post will focus on helpful hints I've amassed via trial & a lot of errors.
xxoo.
*full disclosure – Plutonium Paint™ had graciously supplied apartmentjeanie with spray paint to sample for the craft/diy market.