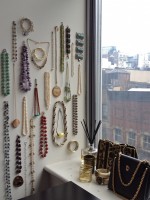 Recently I have been installing a slew of jewelry display walls for my female clientèle.  Although not all pieces are works of art, but by hanging them on the wall, you can:
see what you ALREADY own
streamline your dressing routine
protect from potential damage – tangles & knots
mix & match creatively
show off what you cherish
Assembling an accessible jewelry vignette for a vanity is so easy & quick, it can be done with items from the kitchen cabinet & junk drawer.  I like to combine elements – a heirloom salt dip with inexpensive store bought items like a footed candy dish.  By using a hardware store staple such as a paint roller to stack bracelets & cuffs, vital surface space is saved by being vertical.
If real estate on the dresser top isn't available, then there is always the wall.  While empty frames are a popular style, especially in retail to merchandise necklaces, I prefer an antique drawer or vintage fruit crate.  Angela, owner of LAvintageConnection not only hangs necklaces & earrings, but uses the drawer top & bottom sides to display mementos, photos & her turquoise cuff collection.
The key to a really successful jewelry assemblage is to organize in vessels of varying heights – the architectural appearance give a cohesive look while being able to minimize precious surface space.
However you chose to tackle the jewelry clutter that is claiming drawers with bulky cardboard store boxes, presenting your precious pendants is pretty priceless.
All that glitters is gold,
xxoo.