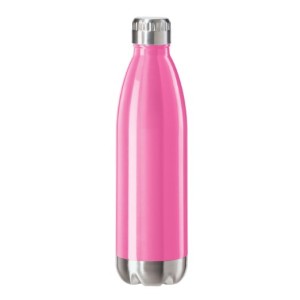 I have a love/hate relationship with water. I need it always, desire it sometimes but when I've been busy working at jobs (never an apartmentjeanie job, of course) without access to a cooler, faucet or preferably bottled water, it's impossible to even focus on water consumption. Ok, so I can be a little melodramatic, but it can be a chore to drink & too easily forgotten.
I do enjoy me some water though. Long ago I used to play field hockey and can still evoke memories of thirst quenching ice cold water after a brutally intense game. Recently, I have had to make sure to drink ample water so my digestion stays on track (tmi?). I need to flush out my toxins to stay hydrated & healthy! Enter the obvious solution…a water bottle.
I'm severely bound to aesthetics but also the need for comfort. I've really tried over the years to stay in the habit of drinking water. The situation has been experimented with. I've purchased bottle packaged water, reusable plastic water bottles, glass water bottles – I've even used a charming Fishs Eddy glass jug de-canter as my portable water source.
After many a failure I've found it! My new OGGI Calypso water bottle is doing the trick. At 25 oz. of capacity, the fact that it is double walled as in insulated and that something about the shape is just right makes this the bottle I've been searching for. Which brings me to my next point; why not share the success of my search?
Now that I've just shared it with you – you should share it with someone else! A good water bottle makes for a great summer hostess gift whether you are visiting the mountains, country or beach! . You'd be surprised how well appreciated a great looking water bottle can be.
Other companies that make super attractive & super functional water bottles:
Drink Up!
– Cindy