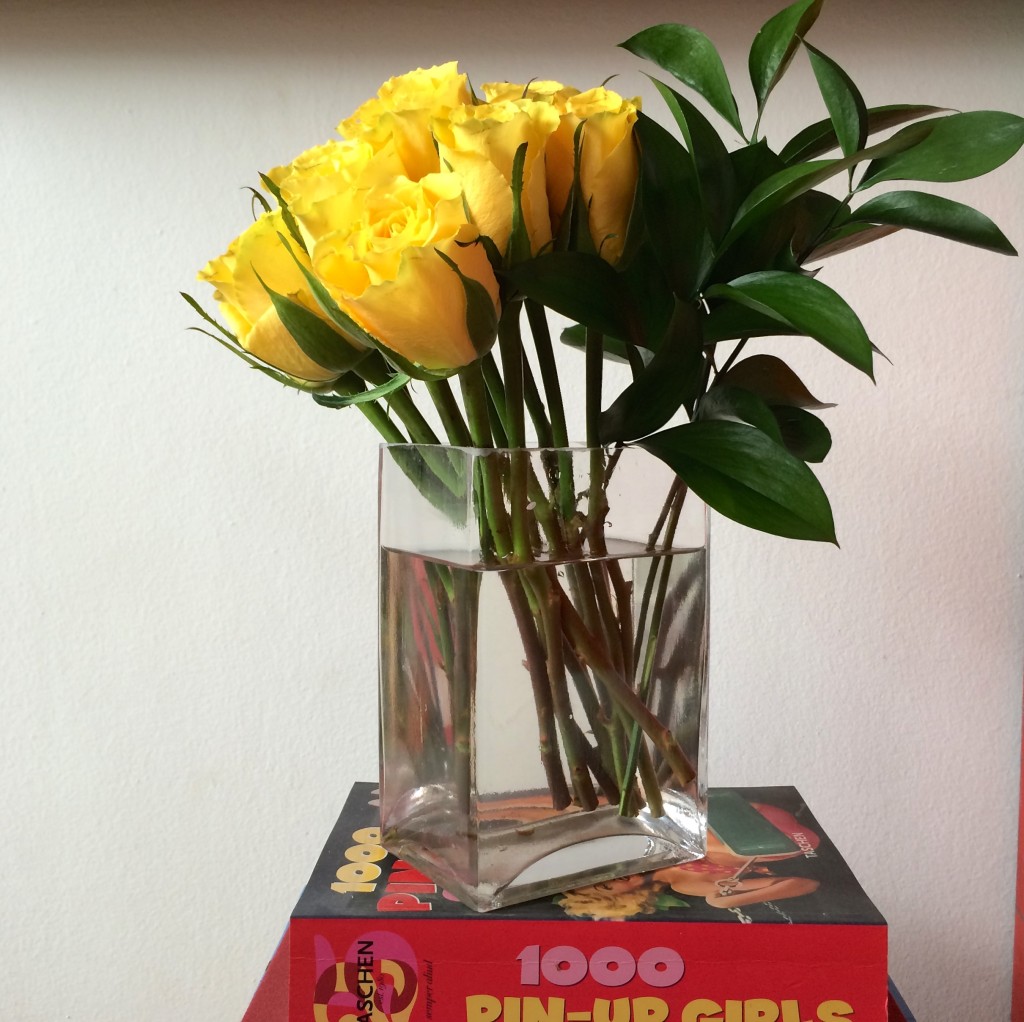 My 21st birthday was a couple of days ago and I was kindly sent a bunch of lovely yellow roses from my thoughtful & considerate office manager.  This is the 2nd time I've received flowers purchased online. The 1st time the flowers were DOA.  The UPS delivery was late on a Friday night and they remained locked in super's office until Monday when the doorman returned to work.  Super sweet thought, not smart execution by 1800Flowers.  This time the sender used Pro Flowers and they arrived fresh and alive.
The flowers were definitely packed for travel with the stems wrapped & immersed in wet floral foam.  A too small standard ginger glass vase was included along with plant food & trimming instructions.  There was a lot of packing to ensure the flowers remained hydrated and uncrushed which took a lengthy time to unwrap and prepare for arrangement.
Somehow it took me over 1 hour to get the flowers from laying on the kitchen counter into the simple vase as shown above.  I am a procrastinator of the highest order (writing this post is serving as a fine example as such), but I actually enjoy floral arranging and this simple task of getting the flowers into water was herculean.
Between my many fits & starts, I realized that the only acceptable way to gift someone flowers is in a proper floral arrangement.  This isn't an ungracious declaration, but an observant one.  When you are spending money on a present that is supposed to bring joy & happiness or express your joy & happiness, it shouldn't be a ton of work for the recipient.  It is just that easy.  When you give a friend a framed photo of the two of you, you don't hand her the frame and an envelope with the photo, you assemble it for her.
Less you think of me being ungrateful, Emily was unaware how the blooms were to arrive.  The website does not indicate the flowers are not packed & shipped as a bouquet.  The photos imply they're big, lush arrangements.  Which leads me to the 2nd revelation, when placing an order for florals that are to be shipped, definitely inquire how they'll be packed & presented.
And you should see how these flowers flourish – check out Tuesday's Tip on the apartmentjeanie facebook page for an easy assembled arrangement.