So you're walking behind a woman who is pulled together and appears to have spent time trying to look that way, but you observe the tag of her blouse is sticking out of the neckline, do you offer to tuck it in for her?  What if it's the band of her bra (unintentionally) rising above the top of her maxi dress?  Or what if she is wearing a light color in sheer fabric that leaves nothing to the imagination, would you say something?
I've been plagued with this etiquette quandary all summer long.  A few decades ago, it would have been considerate to mention to a stranger that her underpinnings were on display, but Madonna, Courtney Love & Gwen Stefani exposed what was initially forbidden into fashion.  I knew when my mother started sporting chunky lace tops with visible black bras in the early 90's that the establishment had accepted the once risqué trend.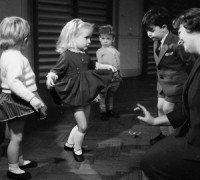 In my quest to assess how the average New Yorker would respond the a quick tuck of a tag, a mention of a bra band, I approached a young woman who happened to be baring significant brasserie back.  Judging from her overall look, this was an accidental viewing.  As we exited the subway together, I commented on her bold choice of colors and she in return liked my hair.  I then plied her with my list of common courtesy questions.  We agreed unanimously on the following.
The Dos & Don'ts of approaching a woman on the street to correct a possible fashion mishap…

do say, 'excuse me' or 'pardon me' with a light tap to let a person know their garment tag is inappropriately exposed.  Never fix the renegade tag without verbal approval.
do mention to woman who looks as though her bra band can be adjusted with minimal effort and that her intention is to conceal not reveal.
don't mention to a woman whose fabric is transparent that it actually is.  You don't know if she is coming or going &  now that she is out for the day can't change to a more opaque option.  This knowledge will only make her feel super self-consciousness.
As for my unsuspecting co-conspirator's exposed bra strap, I made sure I walked behind her and casually pointed out that in fact her romper had slipped a bit revealing her own bra-pas.  She graciously thanked me and mentioned her disappointment in the bra tape she earlier applied.
Trying to right the wrong, gracefully of course.
xxoo.