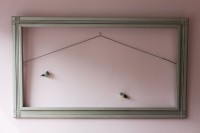 My Etsy shop was never intended to be a money maker, but rather an opportunity to further market the apartmentjeanie brand while simultaneously ridding me of my ornate frame hoarding practice.  Recently I had been approached by a potential customer who really liked the epoxy resin frames that fill the shop.  She wanted the silver art deco frame to be converted into a mirror with a custom finish.  Until you have sanded, cleaned, painted, glittered and covered something in epoxy resin – you really can not appreciate the amount of time & patience the process requires.  I gave a price quote based on something blind of expertise –  none of the projects in the shop factor in the cost of time.
Knowing there is an expectant buyer raised the level of attention and made me 2nd guess the overall design direction.  I continually examined & scrutinized every single coat of paint, flake of glitter and potential air bubble.  When the finished piece was ready to ship – all I could see were flaws.  As I carried the oversize & awkwardly pristinely packed box to fed ex, I did the final calculation of cost to conclude that I was actually paying the customer to take this mirror – shipping included!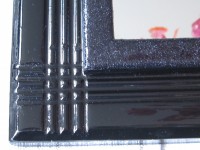 The real concern was that it wouldn't be what she expected – although photos had been emailed, or that it wasn't as polished and professional as she had hoped.  My fears were assuaged when I received this email 2 days later:
OH MY GOD! i got the mirror and its SO FREAKIN AMAZING! i am totally obsessed with it. you did the most fabulous job i cant even thank you enough. its so much more beautiful in person. i adore it. thank you x a million!!
Today I had to checked for transaction comment as I knew she was a compulsive supporter of Etsy sellers having racked up 45 purchases in less than a year.  I was completely wowed by her glowing feedback:
by far the most amazing shop owner ive had the pleasure of working with. jeanie is kind, hard working, personable, professional, AWESOME! the custom mirror she made for me is over the top incredible. her work is outstanding and the pictures in her shop don't do it justice! SO AMAZING IN PERSON! best thing i have ever purchased off of etsy! SUPER fast shipping, and packaged my mirror EXTREMELY carefully. i cannot say enough nice things about jeanie and her shop! xoxox
So while I may have been exasperated by the process and perturbed by the time invested – I did learn a lesson about how to handle future custom orders and made one lady in Chicago very happy so I guess I was paid in full.
basking in the temporary glow,
xxoo.