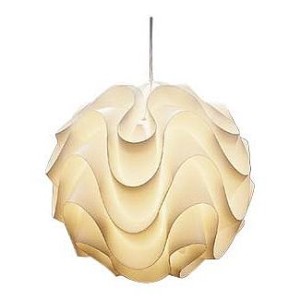 As much as I would LOVE to hang sparkly crystal chandeliers from every ceiling fixture available, sometimes a little restrain is required.  Whether it's financially or aesthetically motivated, an empty light socket need not be boring and unadorned.
Until recently, I had a lovely Le Klint 172b pendant hanging in the foyer to welcome guests upon their arrival.   I suppose after years of abusive high wattage bulbs (I like to be blinded by light – so I suppose the 'softly diffused' entrance light was probably not as welcoming to others as I would like to believe), the plastic sheeting finally succumbed to cracks and deterioration.  What I was left with was neither chic nor hospitable.
I had long admired my dear friend's amazing coral reef like lighting fixture that dominates and decorates the living room ceiling of her Brooklyn abode.  The multi branch chandelier is constructed from hardware store materials and is a snap to build.  The beauty of this project is that it can be as dramatic or minimalist as the space allows. The reason I was unable to duplicate this for my own home, is my ceiling outlet is not outfitted as a standard socket fixture.  This would also make a captivating table or floor lamp if plugged in directly to an electrical wall socket.
Since the dangling bare bulb was soon becoming an eyesore, I looked for other interesting and affordable alternatives.  I found the answer in Budget Living's Home Cheap Home which was on loan from another crafty Brooklynite (there seems to be a trend among my creative cohorts all living in the BK.)   This concept was exactly what I longed for: inexpensive and accessible materials, architectural and able to flood the foyer with bright white light.  The project took less than 15 minutes from unassembled to installed.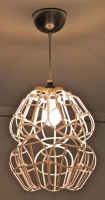 The beauty of this light bulb cover is that I can continue to pursue other options while feeling confident that I have a stylish solution in the interim that is representative of my d.i.y spirit and eclectic interior.
Until I find my next *bright* idea.
xxoo.