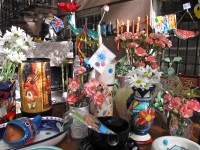 Two years ago, I found myself starring in my kitchen cupboard at a set of darling, but ineffectual Jonathan Adler bud vases that I purchased on super duper, 'are my eyes deceiving me' sale.  Because these were so adorable and bound to be useful, I bought 2 sets – I foresaw a trail of them as a dining table centerpiece or a tight arrangement on the coffee table, however I may have used 1 from 1 set once.  It was in that moment of buyer's remorse that I avowed to eliminate all non-essential household items that I had accumulated over the past decade.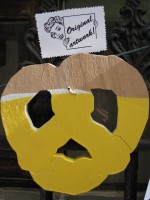 Since only a few items would be of any modest monetary value, eBay and the like were not a viable option.  I needed to fashion a garage sale without the benefit of a house, yard or driveway on a high foot trafficked NYC street.  Although my building is poised on the perfect block for such a stupendous sale, the co-op board would have never granted me access.  In certain Brooklyn neighborhoods, stoop sales are considered quite au courant: in Manhattan not so much.
I approached (read coerced) one of my besties whose husband's family owns the Greenwich Village building where they reside to share in the fun and fortune of a Saturday sidewalk sale.  The brownstone is located on a busy pedestrian neighborhood street with an uncommonly wide-open front yard protected by a diminutive wrought iron fence.  Absolutely ideal for the re-sale retail environment I wanted to create!
With experience extending only as far as attending my kindergarten confidant's family's yard sale, I had to rely on common sense, marketing savvy and my keen ability to sell most anything to anyone to ensure our street sale a succe$$.
The following are a few tricks and tips that will guarantee a great event:
Start to compile a collection that is intended to be sold 1 month in advance.  3 weeks later go through your possessions a 2nd time and continue to eliminate household items that can be contributed to the kitty.
Prep every item by cleaning and placing a price sticker in an obvious location.
Select a day isn't over a holiday weekend and one a few weeks in advance of a gift giving one.
Utilize social media outlets to advertise the sale – include photos of the most coveted items.
Early in the morning of said date, flyer the neighborhood, but be sure to remove the flyers after the event ends.
Create tags with brief descriptions of items that may increase desirability.
Set up the selling space as if it were a retail store – a well merchandised table will entice on-lookers.
Have plenty of change, wrapping materials and shopping bags.
Be flexible and generous with pricing.
Provide a 'free gift with purchase' item to encourage add-ons.  (We offered individually wrapped Rice Krispie Treats.)
Place a bowl of dog treats & water prominently for canines to discover.
Donate whatever doesn't sell at end of the day – DO NOT bring it back into your home!!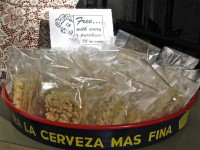 Taking the trash out.
xxoo.