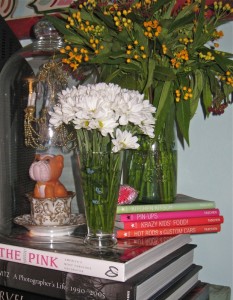 Maintaining fresh cut flowers is a little like training the puppy, if I want positive and sustaining results, I have to put in the effort to cultivate them.  I absolutely adore having flowers (not plants, these thumbs are not green) in the home.  The bloom need not be fancy or exotic – in fact I treasure a bunch of daisies probably more than any other blossom.
For my birthday, I received a gorgeous bouquet of precious pink roses (in case you are color blind – pink is my fav!).  My friend had purchased them at Whole Foods and I have to admit, I am astounded at their longevity.  In the past I may have glanced at the arrangements while waiting at check out, but never considered tossing them (gingerly) into the cart.  I much rather support my local Union Square Greenmarket florist James Durr who has been producing stunning plant life for years.  You are doing yourself & your home a disservice if you fail to support this magnificent nursery.
But, I will admit these buds of beauty have me considering expanding my floral repertoire.  Having only trimmed and changed the water twice these full florets have continued to strive and maintained for over 3 weeks!  That's like an eternity in the life of a store bought fresh cut flower!  They are a burst of sunshine every time I enter the room – like a dose of visual prozac for these gray days.
Everything's coming up roses,
xxoo.