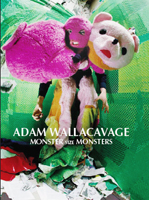 My first formal introduction to the absurdly talented Adam Wallacavage was on an incredibly humid July afternoon 5 years ago.  He was signing copies of his photography book, Monster Size Monsters at the Jonathan Levine Gallery where my dog had been scheduled to 'take down' an art installation that was comprised of Mylar balloons to be later posted on YouTube.  I had been familiar with Adam's body of work over the years and was thrilled that he chose to snap a few shots of my Monster in action. Adam is a skilled and spontaneous photographer.  His images range from the ridiculous to the sublime while creating beauty out of the forlorn and forgotten, yet conveying a sense of spirit in a single shot.  However this medium is not where his artistic abilities truly excel – it is the fantastical chandeliers that leave even the most jaded art-snob completely slack-jaw.
Adam's whimsy coupled with his self-taught ornamental plasterwork creates the most magical and joyous light structures to ever grace a ceiling.   Even the more gothic style chandeliers still deliver a smile and air of fanciful delight.  Like most people I know, one day I hope to posses one of his stunning creations, preferably in pink. Over the years our paths had continually crossed and our mutual friend pool deepened.  During a December gallery opening, he and I were chatting about the upcoming holidays and that I would be coming home to Philadelphia when the coveted invitation to visit his infamous home that plays host to a legendary New Year's Day fete was casually served.  I pounced at the chance to see this Willy Wonka meets Pee Wee Herman who reside in the Addam's Family house.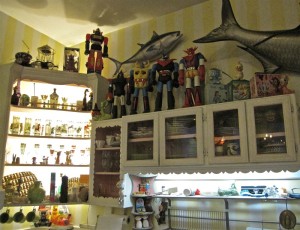 In the midst of the snowstorm that would later cripple the entire Eastern seaboard, 2 friends and I intrepidly battled the elements determined not to miss the opportunity to bear witness to this land of enchantment.  Adam's lair did not disappoint and exceeded my hyper active imagination.  Every corner was tricked out with a surprise and visual treat.  The plasterwork he had designed, created and installed as crown moldings and ceiling medallions was almost as compelling as the art it supported. Most of the rooms in Adam's ridiculously large brownstone (in Philly we call this a Row house) have been photographed and published for their unique flair and exquisite décor – my personal favorite was the kitchen.  Perhaps it was the carnival tent paint pattern on the walls or the display of treasures, toys and lunch boxes or that it was just a riotous room of color and camp – near and dear to my personal aesthetic, but I fell in love with this space. On March 19th, Adam's brilliant and beautiful octopus inspired candy coated resin chandeliers will burn brightly and light up the Los Angeles night at Corey Helford Gallery.  I imploreyou see this collection.  No one does an opening like Jan Corey Helford and a room filled with the sparkly oeuvre of Adam Wallacavage is not to be missed.
For art's sake, xxoo.