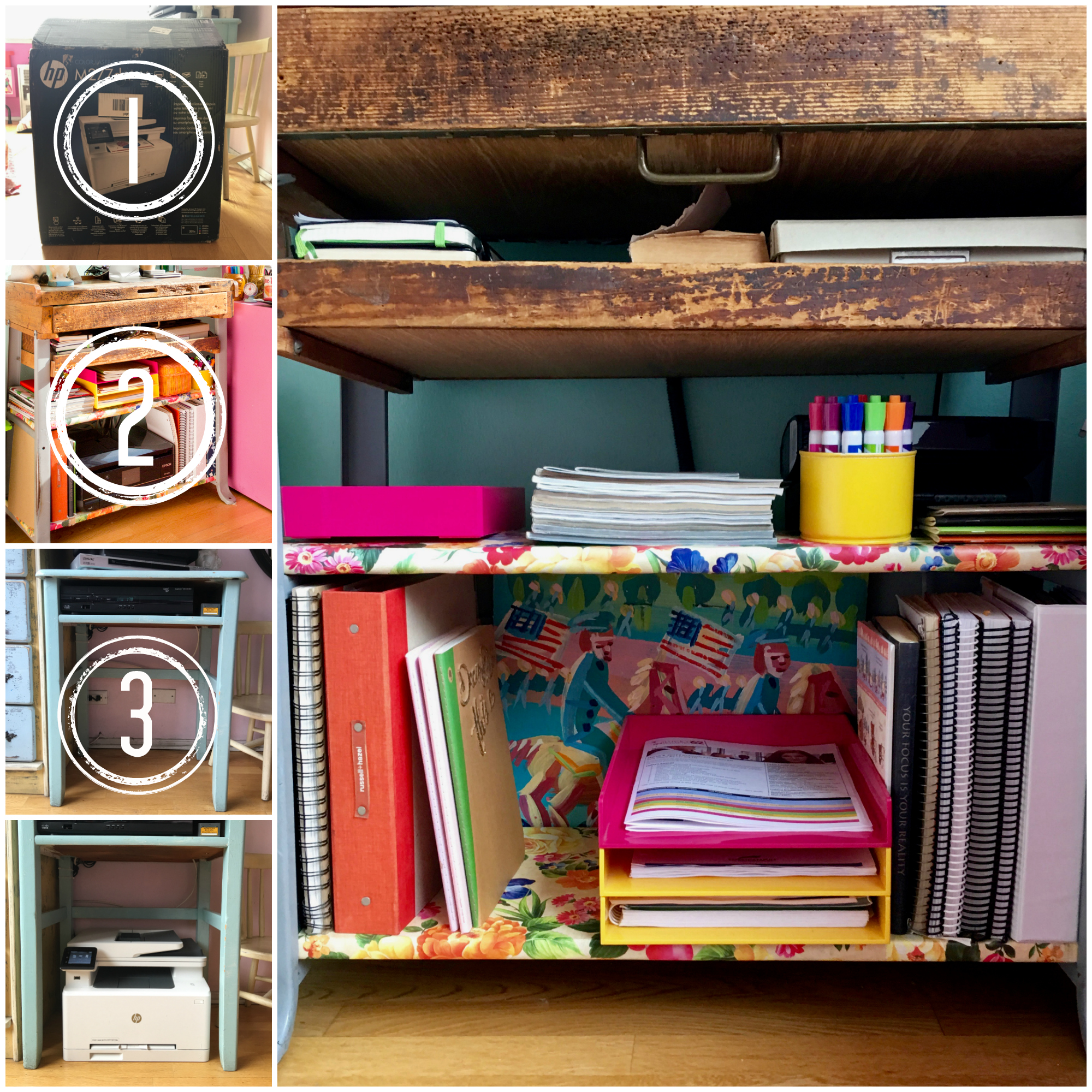 People often assume that given my skill set I am constantly changing the look of my home and the locations of the furniture within it. Which couldn't be further from reality. Whereas I love moving other people's stuff around to create cohesion, organization and smart design (and you should definitely be calling me if you need help with that) I rarely do it for myself. I tend to believe it is because I don't suffer from indecision and when I place something that is exactly where it should be.
A few weeks ago Emily, our intrepid office manager very generously gifted me a laser printer, my current inkjet seemed to have an aversion to printing in black even with a full cartridge and as much as I love pink, I don't think it is the most professional color for work docs. When the surprise of a printer arrived, I immediately thought it would have to go back because it wouldn't fit into the ONLY place I deemed acceptable for a printer. In fact it wasn't until Tuesday's snow day did I actually check the dimensions to confirm what my excellent sense of spatial perception already knew – the printer was too big to fit into the very specific space allotted for such a device.
Emily smartly baited me with, 'isn't this what you do – find or create a space when there isn't one? Isn't this your specialty – creative solutions and problem solving?!' Just as I was about to decline the challenge, I realized I was staring directly at an open space that could house the aforementioned office equipment in spite of my deep desire to send it packing.
The new printer's home isn't complete – I need to add some risers as it isn't wise to let any electronics sit directly on the floor and since I cannot have a piece of office equipment silently mocking me as I do something unproductive like watch an episode of Vanderpump Rules, I am going to fashion oilcloth panels as a table skirt to conceal the printer when not in use. And to Emily's credit, I have used the printer half a dozen times in the past 24 hours.
Truth be told, removing the old printer allowed for much needed shelf space but a ton of unsightly cords and wires were now exposed. A simple solution was inserting a Steve Keene painting that I had in storage to cover the very organized & tidy, but still unattractive collection of cables.
Now Tater Tot has artwork at his eye level, Emily's gift is being utilized and I no longer have to bother the doorman to use the super's office printer- big win for everyone.