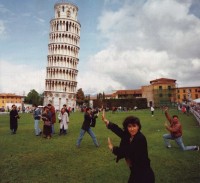 Being a photo archivist for over a decade, I witness many a 'photo pas'.   The most flagrantly offensive is the posing in front of landmark monument to demonstrate that one is in fact visiting this particular location.  These images never bode well for the intended structure and less so for the individual stuck posed before it.
Unless the photo is taken strictly to exemplify its scale, please refrain from standing in front of it.  Or if the probability of you being in proximately of said monument is so completely ludicrous than absolutely ham it up.  In order to get the entire structure in the shot the subject modeling in front of it usually is Lilliputian in stature and featureless, so it really could be a stranger instead of your travel partner.
I am not suggesting to ignore photographing points of interest, just remove all family members from competing with them.  Take fun candid photos of travel companions while they enjoy the experience and juxtapose the images of people and the edifice in an album.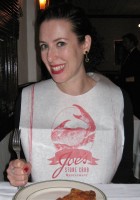 There are many methods in which to capture people & places beautifully without sacrificing the story.  It just requires a little creativity.  Use maps, menus (or bibs in the case of Joe's Stone Crabs) and tourist trap trinkets to establish the location.  These photos can present a much stronger understanding of the experience than forced poses in front of a historic façade.
Get snapping and send me your best vacay pic – the aesthetic winner might receive an exclusive photojeanie prize.
Keep capturing the memory.
xxoo.